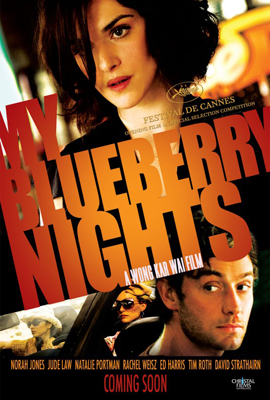 Early in My Blueberry Nights, Elizabeth asks cafe owner Jeremy if her boyfriend has been there with any other women. Jeremy only remembers faces and meals, and Elizabeth discovers that yes, indeed, her porkchop and meatloaf-eating boyfriend has been eating with another. Elizabeth angrily leaves her apartment keys with Jeremy with the intent of never seeing her boyfriend again. Later, heartbroken and lovesick, she returns to find the keys still in Jeremy's possession. Her boyfriend hasn't come calling. Jeremy tries to cheer her up by talking about his desserts. He explains that at the end of the night, the cheesecake, apple pie, and peach cobbler are always finished, but a whole blueberry pie always remains. "What's wrong with the blueberry pie?" Elizabeth asks with great despair. "There's nothing wrong with the blueberry pie, it's just people make other choices."

"I'll eat it," Elizabeth offers.

This is typically how things unfold in the world of Wong Kar Wai. His films are a triumph of atmosphere and tone over story. The plots meander and end up where they began, if they end anywhere at all. The characters ponder romantic heartache out loud, posit quirky theories, and often undertake curious, fruitless journeys on an emotional whim. Elizabeth has a series of after hours meals with Jeremy, who has a jar full of keys and the stories to match. He's an equally wounded soul who now only observes from behind his counter, refusing to act on his clear affections for Elizabeth. One night, Elizabeth decides to "take the longest way to cross the street" and heads first to Memphis, then Las Vegas, where she encounters a variety of hopeless romantics.

In her acting debut, Norah Jones has a sweet naturalness about her, but she's reduced to the role of observer for most of the running time, waitressing in various locales made all the more bustling and colorful by Wong's distinctly skewed photography. (WKW's #1 rule of cinematography: Get your characters just inside the edge of the frame. Then stop.) In Memphis she befriends Arnie (David Strathairn), an alcoholic who can't let go of his resentful ex-wife, Sue Lynne (Rachel Weisz). In Nevada, she stakes poker player Leslie (Natalie Portman) with her meager savings in exchange for a car.

Wong has a clear fascination with late night dining and ill-fated relationships, and food always takes on intriguing symbolic relationships with his characters. My Blueberry Nights, his first English-language film, is a kindred spirit with his Chungking Express and Fallen Angels. All revolve around greasy spoons and the strangers that inhabit them, passing each other in the night until the moment that they don't, their disparate paths suddenly crossing over. Chungking Express was a wonderful piece of romantic whimsy, but My Blueberry Nights misses the mark, trying to build emotional currents on a flimsy structure of contrived character sketches.

The film is a bit of an acting showcase as there's no shortage of crying, yelling, and other outpourings of emotion. What's missing is the quiet moments inbetween, the moments in which these characters actually make the decisions that lead to the building up or, mostly, breaking down of their relationships. Elizabeth narrates the meandering adventure in postcards written to Jeremy, but her observations don't contain much insight to either the situations or her point of view of them. Oddly, the most endearing moment for me was a throwaway scene when Jeremy, wanting simply to talk to his friend, calls every single diner in Memphis asking to talk to any waitress named Elizabeth.

There are a lot of nice moments in the story. I liked Sue Lynne coming to terms with Arnie by paying his insanely big bar tab, Elizabeth's mobile goodbye with Leslie when they separate at a fork in the highway, and Jeremy's musings on his jar of outcast keys. Unfortunately, the vignettes don't so much end as run out of steam, and Elizabeth's cross-country waitressing journey leads to a simplistic conclusion. My Blueberry Nights isn't more than the sum of its parts, forcing whimsy when there should be honesty. I wonder what would have been if Elizabeth had decided to take the short way across the street, instead.

Quick DVD note #1: You probably know to buy all region DVDs when purchasing on eBay (region code zero). Also remember to buy DVDs in NTSC format, as the PAL videos from Asia and elsewhere don't work in standard North American players.

Quick DVD note #2: An old XBox can play PAL! And if you have an HDMI cable for it, it can work as a poor man's upcoverting player, too. And to think, I was going to banish the thing to the garage. I heart you, old XBox.